The Theme
Innovate, Integrate and Actuate: Undoubtedly the capability to innovate and to bring innovation successfully to market will be a crucial determinant of the global competitiveness in every field over the coming decade with Orthodontics being no exception. Evidence suggests that innovative effort is on the rise as a share of economic activity. Investment in knowledge has grown more rapidly than investment in machinery and equipment.
India too is transforming with encouraging projects and policies like 'Make in India', 'Start up India', 'Skill India' etc. In the present scenario, to excel and compete globally, the Orthodontic fraternity in India should focus on innovative research work, integrate it with the mainstream practice to actuate for rapid advancement and be the change globally.
---
The Logo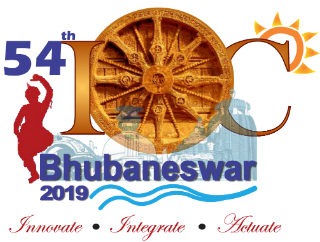 Different shades of Blue, Maroon and Saffron colors are used in the logo - Blue representing "Trust and Warmth"; "Maroon for Sacrifice and Bravery" and Safron for "Strength and Courage". The "Wheel" of UNESCO World Heritage Monument KONARK SUN Temple, represents 'O' of IOC.
The wheel has eight major spokes that match with the eight pillars of Orthodontics namely Diagnosis, Growth, Biomechanics, Tissue Response, Orthodontic materials/appliances/technology, Esthetics, Function and Stability. While Odishi Dance represents the rich culture of Odisha, Puri Jagannath temple on the Bay of Bengal stands tall as one of the must visit of the four Dham's of India.
---
The Mascot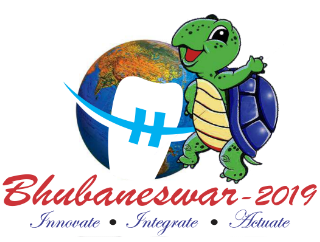 T2:The Olive ridley turtles migrate hundreds or even thousands of miles every year, and come together as a group once a year to the coast of Odisha for mass nesting. Odisha coast hosts the largest mass nesting site for the Olive-ridley, followed by the coasts of Mexico and Costa Rica. Thus the Mascot itself is a true witness of Odisha hospitality inviting the Orthodontic fraternity from around the globe to be part of this mega event.
---
The City

Bhubaneswar: Known as the "Temple City", Bhubaneswar has a unique position by virtue of the ability to seamlessly integrate its rich cultural heritage with a strong regional economic base. Founded during the Kalinga empire over 3,000 years ago, Bhubaneswar today boasts of a cluster of magnificent temples, constituting a complete record of Odisha temple architecture from its early inception to its culmination.
Post-Independence, the modern city of Bhubaneswar, designed by German architect Otto Konigsberger in 1946, was established to shape the city in serving as an administrative centre for the state.
Today, the city is an emerging hub for education, health and information technology. Further, Bhubaneswar also plays an important role as a regional gateway to the Golden Tourist Triangle of Puri, Konark, and Chilika Lake. It's strategic geographic location along the east coast of India, has positioned Bhubaneswar to serve as the gateway to South-east Asia with easy access to existing and emerging ports, petrochemical and steel hubs at Paradeep, Kalinganagar, Dharma and Gopalpur.