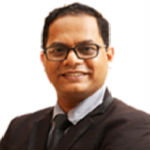 Dr Surya Kant Das
Email Id: orthosuryakantadas@gmail.com
Mobl: 9861099237
Greetings! On behalf of the Orthodontic fraternity and the Conference Organising Committee,
I extend a hearty welcome to the 54th Indian Orthodontic Conference 2019, Bhubaneswar.
It's our privilege to host the IOC for the first time in Odisha. Having said this, it means a lot of responsibility and hard work from all of us here.
I thank each of you from bottom of my heart to have given us a chance to host this prestigious event. As promised on the dais during bidding of the conference at AGM, 2014, Kolkata we have slashed the conference registration fees echoing the general sentiment of the members.